Call Us

+91 9871732239

011 - 4109 2611
Foreglimpse Advantage
Would you like to have a paperless environment in your office?
How much of your valuable space do your physical files take up?
Is better work efficiency a priority?
Do you visualize having complete control over your information?
Is your data consolidated at one place?
Have you employed complete safety measures to store data?
Is the same data repeated on several machines?
Do you want faster data retrieval?
Who doesn't like to save money for the future?
Is the data available even in situations like change of management?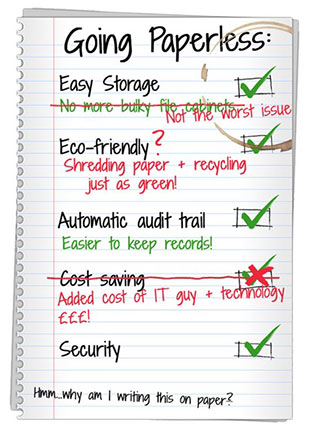 Foreglimpse enables its clients to convert a paper cluttered office into a paperless one. All documents are scanned and securely stored, making it easy to share them electronically with everyone who needs it. Data once converted into e-format is much easier to manage for long term storage. Content within every digitized document is searchable. It is no longer necessary to waste time looking for documents. We here at Foreglimpse make document search easy and quick. It is much easier to handle digital documents as compared to physical files. Bookmarking is an easy way of fast data retrieval within a file. Indexing saves a lot of time as any information can be accessed at the click of a button. We also play a major role in Document security whereby we backup data securely for our clients on highly secured servers. We provide both offsite and onsite services as required by clients. This is a very cost effective solution as it does not involve shelling out money for keeping bulky files. Foreglimpse also offers secure shredding facility.
Skype
Skype User Name : FOREGLIMPSE
Google+
Gmail User Name : dms@foreglimpse.co.in
Delhi
Address: 2/6 Sarai Julena commercial complex ,Opposite Hotel Surya Crown Plaza,
Delhi-110025
Mobile No: 9871732239
Noida
Address:A-77 Sector-80,
Noida-201301
Mobile No: 9871732239
Gurgaon
Address: L-5/14, DLF Phase-2,
Gurgaon-122002
Mobile No: 9871732239
Mumbai
Mobile No: 9871732239
Bangalore
Mobile No: 9871732239
Hyderabad
Mobile No: 9871732239